ARTICLE
More than one cause of premature collapse
09 July 2019
MALCOLM BROOMFIELD Safety Consultants has issued guidance on how premature collapse can occur during a fire and steps you can take to mitigate these risks.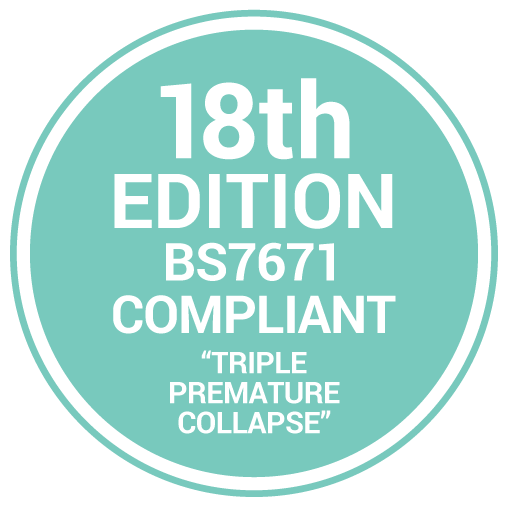 NICEIC technical development manager Darren Stainforth says: "The new proposed regulation expands the need to avoid the risk of entanglement from escape routes to all areas. The new proposed regulation (521.10.202) does not just apply to cables in escape routes, but any cable that is subject to premature collapse. Premature collapse may occur for a number of reasons, but typically heat from the fire can cause plastic fixings to fail."
Malcolm Broomfield Safety Consultant stresses that this is Important as there are other ways Premature Collapse occurs in a fire event that need to be taken into consideration. There are three critical events in a fire that cause premature collapse of cabling. Extreme heat is the one everybody in the industry is focusing on because this causes plastic fixings to fail and entanglement becomes a real threat.
40% of fires in industrial units and 60% of fire in domestic situations result in an explosion of some kind. At home it could be a scent bottle, an aerosol spray can or a tin of baked beans. Fixings used in installations must be able to support cables in this kind of event.
In industrial situations it can be pressurised canisters, inflammable fluids, chemicals or bottled gas. The explosions tend to be larger in industrial fires because of the collective storage of multiple units, however smaller explosions bring higher risk of premature collapse because substrate stays intact - and they can occur anywhere on a site. Again, it is the fixings used which can help prevent Premature Collapse in this instance.
70mm dia Fire hoses operate at 5 bar or 70psi at ground level and 5 times higher in high rise blocks and water running down walls into apartments below can cause the ceilings to collapse. A sweep of pressurised water of this kind will strip most walls and ceilings bare. It is essential that fixings used to support cables from Premature Collapse are up to the job, both today, tomorrow and way into the future.
Fire Safety Clips could be in a building that is partially on fire and subject to percussive shock by explosion and water spray without high temperatures. So Fire Safety Clips must hold in other than high temperature circumstances. The best fixing for offering protection from Premature Collapse (triple threat) under 18th Edition of BS7671 is a concrete screw.
For more information, visit www.malcolmbroomfieldsafetyconsultants.com
OTHER ARTICLES IN THIS SECTION