ARTICLE
Intersec 2019 preview
17 December 2018
More than 1,300 exhibitors from 59 countries, including 18 of the world's top 20 commercial security providers, are set to participate at Intersec 2019, which takes place from 20-22 January at the Dubai International Convention and Exhibition Centre.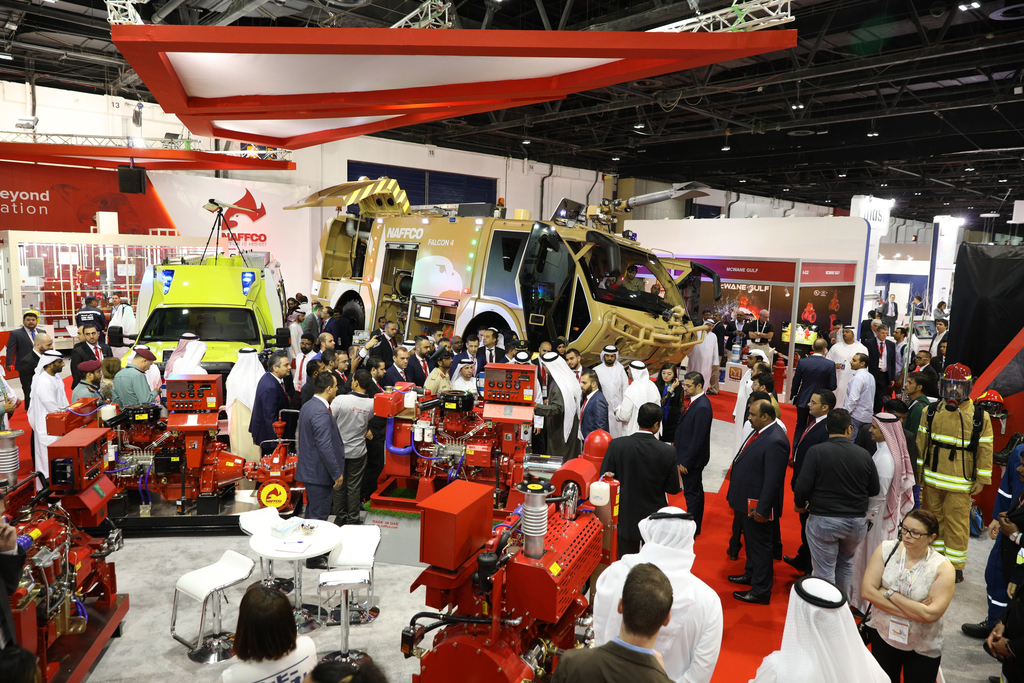 THE ANNUAL three-day event, organised by Messe Frankfurt Middle East, covers the seven sections of Commercial Security; Fire & Rescue; Perimeter & Physical Security; Safety & Health; Homeland Security & Policing; Information Security; and Smart Home & Building Automation.
This all sets the scene for three days of busy networking and knowledge-sharing at Intersec 2019, which returns with the key support of long-standing Government partners such as the Dubai Police, Dubai Civil Defence, Dubai Police Academy, Dubai Municipality, and the Security Industry Regulatory Agency (SIRA).
The increasing global significance of the annual showpiece will also be underlined by a number of new international partners coming on-board, with Intersec's show director Andreas Rex confirming the Kuwait Fire Protection Association, the Royal Society for the Prevention of Accidents (ROSPA), the Institution of Occupational Safety and Health (IOSH) and the National Examination Board in Occupational Safety and Health (NEBOSH), among new official supporters next year.
The Perimeter Security Suppliers Association (PSSA) and the Pakistan Safety Council have also confirmed their support for Intersec 2019, joining more than 35 official international government partners, trade associations, and professional non-profit institutions aimed at advancing the global security, safety, and fire protection landscape.
Based on square meterage covered, exhibitor numbers and an expected audience of more than 30,000 visitors from 120 countries, we expect Intersec 2019 to be the world's largest trade fair of its kind, highlighted by 15 country pavilions and an Ontario region Pavilion from Canada that is participating for the first time.
A two-day Future Security Summit will raise key issues on Artificial Intelligence, security Integration, emergency preparedness and response, data protection, IoT and much more. A range of practical workshop sessions are also being organised for security managers to support skills development, professional expertise on security risk intelligence, threat identification, and disaster management.
The SIRA Forum will also return with the latest updates in security law and industry regulations in Dubai, while a one-day Fire Safety and Protection Conference will involve authorities, fire chiefs, engineers, fire fighters and emergency response professionals."
Commercial Security
Commercial Security will again be the largest section on Intersec 2019's exhibition floor, with more than 450 exhibitors including Swedish manufacturer Axis Communications.
Fire and rescue is the next largest section at Intersec 2019, with more than 350 exhibitors expected, followed by Safety & Health (150 exhibitors) Homeland Security and Policing (100 exhibitors); Perimeter and Physical Security (100 exhibitors), and Information Security (50 exhibitors).
The Dubai Civil Defense will take centre-stage in the Fire & Rescue section. Major General Rashid Al Matroshi, the Head of Dubai Civil Defense, said the UAE's leading role in adopting the latest international standards and technologies has become a milestone in the world today
"In the field of security and safety, the UAE and its wise leadership spare no effort to introduce the latest security technologies to ensure the safety and well-being of its citizens, residents and visitors," said Al Matroshi.
"Intersec, therefore, has become a global leader in the security, safety and fire prevention sector in the region, and its leading role in bringing together the world's pioneering manufacturers and experts as well as enhancing regional safety and security."
Other big names in the global fire and life safety business include UAE-based powerhouses NAFFCO and Concorde Corodex Group, Honeywell from the USA, Japanese-headquartered Hochiki, Drager from Germany, and Turkish fire truck manufacturer, Volkan.
Eaton Corporation is another headline exhibitor in the Fire & Rescue section, and is one of many companies at Intersec 2019 positive about the current and future fire safety trends in the regional market.
Returning popular features at Intersec 2019 include the Drone Zone, an Outdoor Demo Area, a Smart Home Pavilion and the Safety Design in Buildings Pavilion. More than 150 exhibitors will be participating for the first time, while Canada, China, Czech Republic, France, Germany, Hong Kong, India, Italy, Korea, Pakistan, Russia, Singapore, Taiwan, UK, and the USA comprise the 15 country pavilions.
Intersec 2019 is held under the patronage of His Highness Sheikh Mansoor bin Mohammed bin Rashid Al Maktoum.
More details about the exhibition is available at: www.intersecexpo.com
OTHER ARTICLES IN THIS SECTION